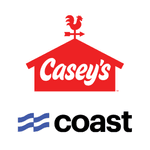 ABC Iowa members can save 6¢ per gallon at Casey's + get a $200 fuel card credit.
Casey's has partnered with new Visa® Fleet fuel card provider, Coast, to offer a 6¢ rebate on every gallon purchased at Casey's stations throughout Iowa and the Midwest—without any limits or exclusions.
Coast is also offering ABC Iowa members who apply through the unique ABC Iowa sign-up link a special $200 fuel card statement credit upon spending $2000 in the first 3 months. 
Coast fuel cards have smart, customizable spend controls and simple real-time financial reporting that makes managing a commercial vehicle fleet easier than ever before. Companies have saved thousands by switching to Coast. Now, Iowa contractors can save even more with a 6¢ rebate at Casey's.
Coast is also accepted at every other gas station brand that takes Visa® and there are no 'out-of-network' fees.

LEARN MORE