The foundation for members who excel in safety.
STEP was developed by contractors, for contractors, and is designed to provide you with an organized approach to analyze and further develop your safety program.
This self-audit program provides an objective method to measure your safety program and make continuous improvements.
Members of ABC of Iowa that receive award status in STEP are among the safest construction companies in the nation - up to 645% safer!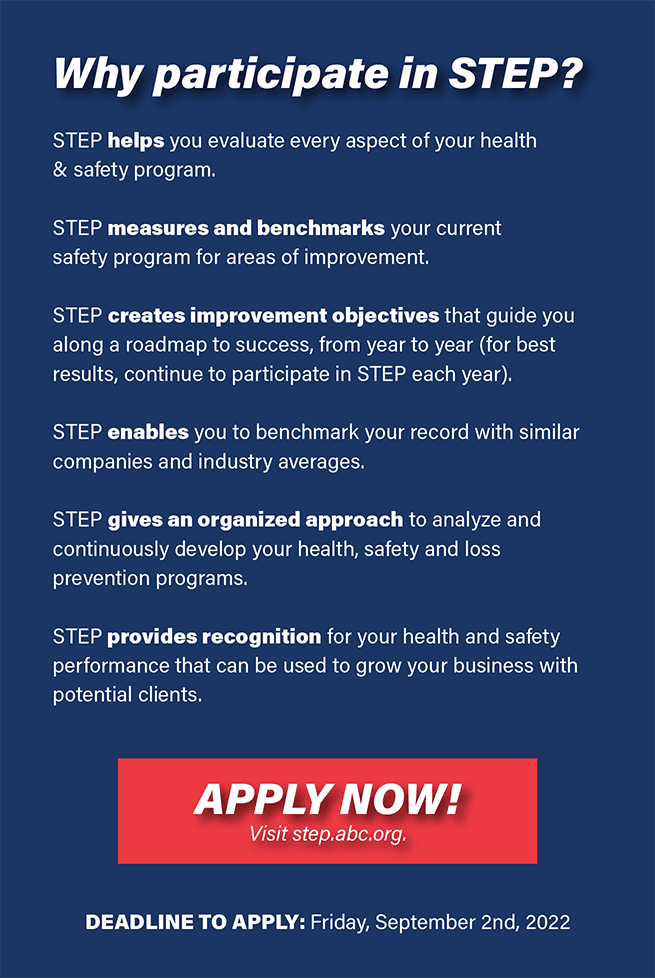 There is no charge for this service (unless you are applying for STEP Diamond or Platinum), and your responses are strictly confidential. 
Participating companies score their level of achievement for each component on a weighted point scale and document their incident rates (TRIR and EMR).
Companies receive a recognition level of Diamond, Platinum, Gold, Silver, Bronze or Participant based on this data.

Questions? Contact Tom VanderLinden at 515-985-1166.
 Applications are due by Friday, September 2nd. 
---
The roadmap to Top Performer recognition.
---
2021 Award Recipients
| Award Level | Diamond | Platinum | Gold | Silver | Bronze |
| --- | --- | --- | --- | --- | --- |
| | ACI Mechanical, Inc. | American Boiler & Mechanical | Iowa Insulation, Inc. | Brockway Mechanical & Roofing Co., Inc. | Brandt Construction, Inc. |
| | Insulation Contractor Services | Camblin Mechanical, Inc. | Kruck Plumbing & Heating Co., Inc. | Keen Project Solutions | Dahl Air Conditioning & Heating, LLC |
| | Interstates | Hometown Plumbing & Heating | | Kinseth Plumbing & Heating | HPC, LLC (Harold Pike Construction) |
| | Mechanical Air Systems Company | Klinger Companies/Younglove Construction, L.L.C. | | Mid States Electric Co., Inc. | K & W Electric, Inc. |
| | River Cities Engineering, Inc. | Price Electric | | Nelson Electric LLC | Kline Electric |
| | Shaw Electric, Inc. | QCI Thermal Systems | | Proctor Mechanical Corp. | K-W Electric, Inc. |
| | | | | Suter Services | Modern Builders, Inc. |
| | | | | Todd & Sargent, Inc. | NAI Electrical Contractors |